Automatic dosage system chemicals products - DOSAMIX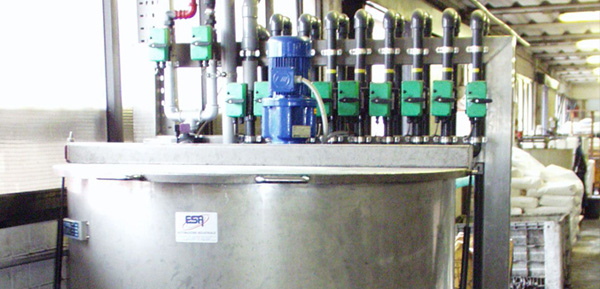 Automatic dosage system chemicals products Dosamix
Automatic dosage system chemicals products Dosamix will automatically pump the liquid chemical products from storage warehouses. During the following stages the products will be dosed, mixed and sent to the selected users according to the requested quantities and the planned time schedules.
The system does not set any limitations to the number of users to be supplied, or the quantity of products to be managed, such as acids, bases, fattening and tanning substances
Plants can be fitted with one or more mixers in stainless steel with automatic shaker and high-sensitivity weighing systems of varied dimensions.
The high plant automation enables to obtain flexible dosing systems in the hydraulic pieces, which are cheap and very easy to be managed, also by non-specialised operators.
Dosage procedures are designed through one or more graphic and touch-sensitive panels with menus specifically suited for the plant.
CONTACT US TO PROCESS YOUR QUOTATION
[
]