Semi-automatic Drum Filling Machine Basic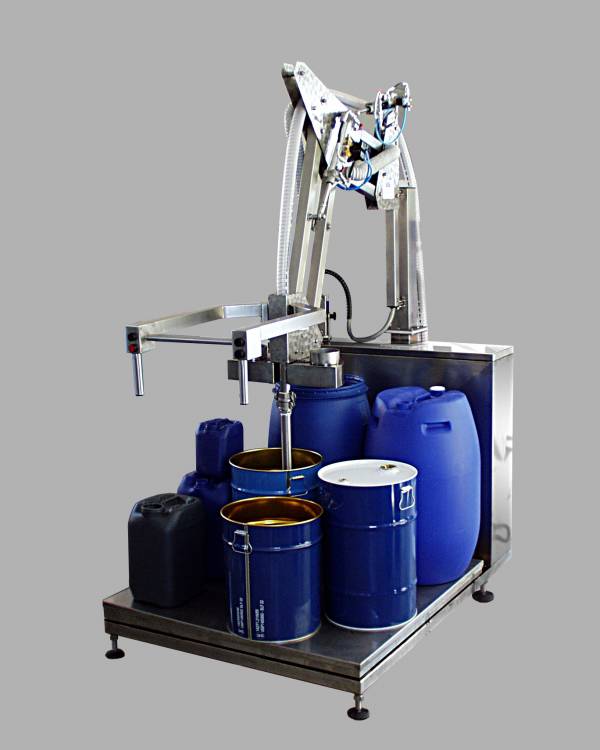 Drum Filling Machine Basic
Semi-automatic Drum Filling Machine Basic with operator.
This machine is the basic version of the wide range compact , simple, lightweight and economical.
The Semi-Automatic Drum filling Machine Basic allows to perform filling of drums 120/200/1000 liters of pallet , narrow or wide mouth individually or on pallets , the particular shape of the movable arm makes the manual operation of centering the mouth of the container particularly light and fast.
The operator simply load the pallets of empty , insert the filling tube servo moving it manually in the mouth of the container , press the fill button and the machine thanks to its pump will fill up to the programmed weight .
Applications: manual assisted drum filling of only one pallet at a time for each type of liquid product and all viscosities .
Specifications:
Indicative Productivity : up to 50 drums now
Oils are packaged servo arm
Weighing Platform size 1000 x 1200
Volumetric dosing pump power controlled by inverter
Infustaggi programming with operator panel 5.5 " color screen toutch
Pneumatic shut-off valve cannula drip
Cannula insertion interchangeable with diameters from ½ to 2 "
Programmability of the net weight
Programmability of tolerance stem weight
Dosing accuracy 100 g
Resolution weighing about 1000 kg of 100 g thanks to a unique 4 digital load cells
Programmable pump speed based on the viscosity product
Programmability number of pieces to be performed
Archives of 4 models of drum filling
Net weight display unit
Display total weight of pallets
Display total weight game
Construction frame in stainless steel AISI 304 ( 316 on request)
Options: labeling , networking ethernet or bus .

[
]