Disgorging and Filling Cask System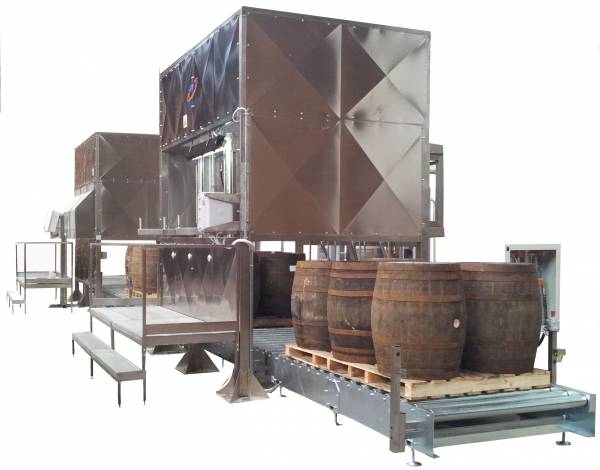 Cask Filling
Disgorging and Filling Cask System
suitable for installation in ATEX II area Zone 1
Each production line will be controlled by its own electronic system
independent with its own terminal touch screen all located in a safe area.
Emptying casks placed on pallets of 6 units each,
Filling casks placed on pallets of 6 units each
the disgorging and filling cask system is composed of two machines :
disgorging machine
the disgorging machine that allows to empty cask 6 positioned vertically on pallets
by automatically the drilling of the cask, the insertion of the suction tube, the colorimetric analysis of whiskey, filtering, send the product to storage tanks.
the process of disgorging fully automated requiring only loading pallets with 6 cask of roller conveyor
and removal of pallets with forklift with the empty casks.
the on-line analysis of color allows to identify Instantly casks to be regenerated which will be marked with paint for easy recognition after the removal of the disgorging machine .
the disgorging machine can produce from 50 to 200 casks per hours in different configurations and records the empty casks, the amount of product taken, the casks intercepted by regenerating.
the process of disgorging can be equipped with various sw management and traceability.
Automatic filling casks for AtexII zone 1
the filling machine allows to automatically fill with only one operator cask placed on pallets of 6 units
with maximum ease of use and high productivity per hour.
for operator safety the filling machine is equipped with suction vapors of whiskey and corresponds to the classification ATEX II zone1, also with the particular control system of the cask full joined to the volumetric control of liters for each cask ensures a safe and fast filling of casks.
the productivity of the cask filling machine goes from 100 to 400 casks per hour in the various configurations.
CONTACT US TO PROCESS YOUR QUOTATION
[
]