Electrox electrolytic treatment of process water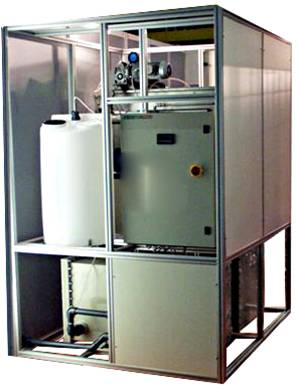 Eletrox-Electrolytic treatment of process water
Electrox-electrolytic treatment of process water uses the controlled electrolytic reaction principle, and ensures the treatment of process water, removing suspended matter of mineral, organic and synthetic nature.
The matter removed from water is automatically conveyed as concentrated mud in bags, which must be taken away and replaced when they are full.
In addition to power supply, Electrox only requires small amounts of polyelectrolyte, which is independently managed, this polymer being taken by the integrated tank.
ADVANTAGES OF ELECTROX COMPARED TO THE TRADITIONAL CHEMICAL AND PHYSICAL TREATMENTS
Fully automatic system
Very low storage of water under treatment
Cancellation of biological activities in water
No odour emission
Live water treatment
Loading possibilities in many cases set forth by table A
APPLICATIONS
Types of water coming from:
Chemical plants (resins, oils, surfactants)
Pharmaceutical plants (emulsions, suspensions, synthesis)
Painting plants (plastics, metals, water).
Separation of oils and hydrocarbons.
Capacities from 2000 to 10.000 litres/hours of waste waters.
CONTACT US TO PROCESS YOUR QUOTATION
[
]