Laboratory agitator, mixer and disperser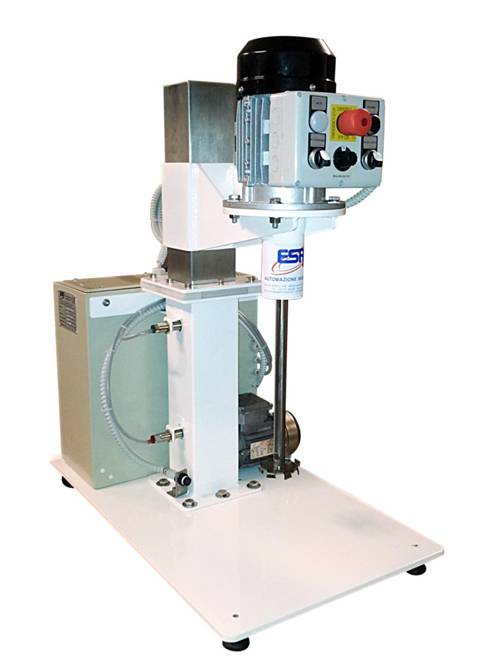 Laboratory Agitator
ESA laboratory agitator, mixer and disperser is designed to be used in various applications whether sperimental or for small productions with power range from 0,55 Kw up to 2,2 Kw.
Rotating speed from 20rpm to 3.500 rpm with various shapes and dimensions of impellers.
TECHNICAL FEATURES:
- Up/Down button for vertical stroke of the column
- Start Rotating Button
- Change rotation Button
- Emergency Button
- Optical sensor tank position confirm
- Inverter speed adjusting
- Self-Ventilated Asynchronous Motor (optional).
- Control panel embedded/separated.
- Tank block made by moving arms and adjusting block belt.
- Tank Bench made of washable anti-slipping rubber
- Usable Impeller:
Cowless, Marine propeller ,Air Propeller ,Anchor
TECHNICAL DATA :
- Self-standing column mixer
- Bench framework
- Motor Power 0,55-0,75-1,5-2,2 Kw
- Max. rpm 4500
- Electrical screw-driven stroke of propeller
- Container presence control
- Electronic adjusting speed from 100 to 3500 rpm
- Main shaft and impeller in stainless steel AISI 304
- Maximum viscosity 40.000cps
- White/yellow epossidic coating
DIMENSIONS:
- Height 800 mm
- Width 400 mm
- Depth 500 mm
- Gross Weight 30 Kg
- Voltage 220V or 400V
CONTACT US TO PROCESS YOUR QUOTATION
[
]