Continuous Drum Filling Machine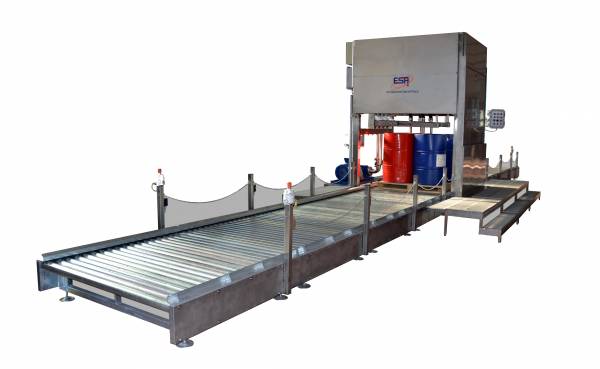 Continuous Drum Filling Machine
Continuous Drum Filling Machine.
The system enables the filling of wide or narrow mouth 120 or 200 litre drums in a semi-automatic way, also with only one operator, ensuring cheap operation and plant prices.
The machinery ensures to host on board a maximum of 7 pallets with 4 drums, which are distributed as follows:
3 incoming pallets with empty drums, 1 pallet during the filling phase, 3 outgoing pallet with full drums.
The roller transport control system moves the pallets from the commencement to the end of the cycle, and automatically leaves the operator the only task to load the empty pallet and unload the full pallet. Therefore the operator must connect and disconnect the 4 filling tubes in the drum mouths.
Applications: low-productivity drum filling lines for refineries and chemical industries.
Technical description:
- Approximate productivity with 2 operators: 100 drums/hour
- Weighing solution: 50 g on 1000 Kg, thanks to the exclusive 4 loading digital cell system
- Dosing accuracy: 100 g
- Movement: roller transport with 5 inverter-powered three-phase asynchronous motors
- Cycle system programming with 10 colour touch screen operator panel for the management of:
- Drum net weight, dose speed, transport speed, weight tolerances, drum lot quantity, total lot weight
- Communication: Ethernet port, field bus, internet connection for remote assistance
- View of: net weight, non-compliant drum, pallet weight, batch weight, drum number, system alarms with historical report
- Dose adjustment with 4 proportional valves in stainless steel
- Power-operated transport rollers in galvanised steel
- Size: 14.000 x 2000 x 2700
- Accessories: label machine, ink jet marking machine, A4 printer
CONTACT US TO PROCESS YOUR QUOTATION
[
]
With the data request, at time of contact by email, you should annex this format, for a quicker and more specifies response to preventive
With the data request, at time of contact by email, you should annex this format, for a quicker and more specifies response to preventive